Create and send invoices for subscriptions, accepting payment by wire transfer or Paddle Checkout. No need to duplicate data.
Win larger value deals and enterprise business with invoices in Paddle. Your sales team can create and send invoices, giving your customers the option to pay by wire transfer as well as card, PayPal, Apple Pay, Google Pay, and other local payment methods.
Paddle automatically creates a subscription when you issue an invoice, ready for you to provision.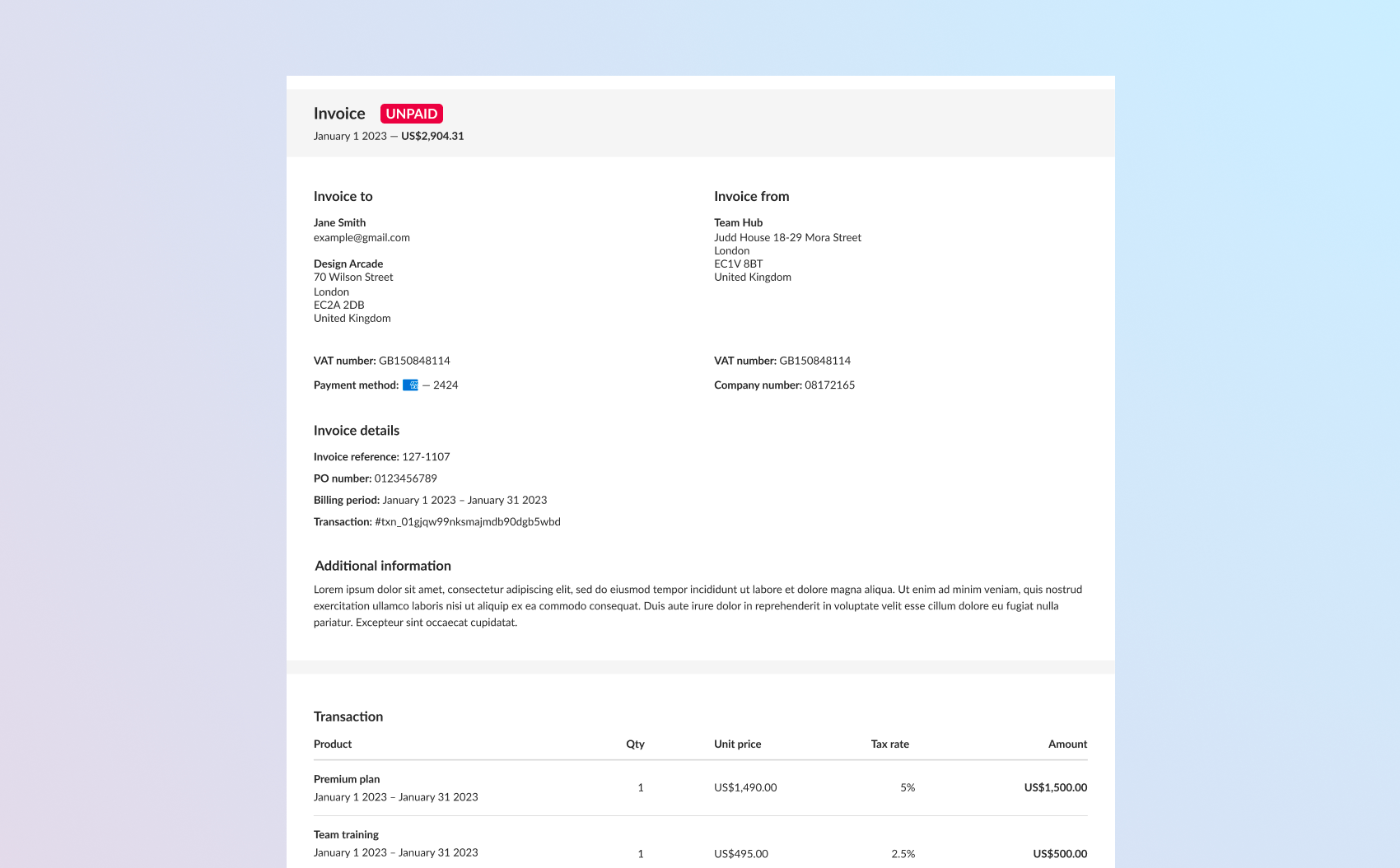 Create and send invoices for subscriptions from one centralized system.
Draft invoices as you scope out requirements, before issuing to send to your customer.
Paddle automatically creates invoices for subscription changes, like renewals or plan changes.
Transition subscriptions between automatic collection using checkout or billing by invoice.
Accept wire transfers and offline payments, as well as card, PayPal, and other payment methods.
As a merchant of record, Paddle collects payment and marks invoices as paid.
Invoices are typically part of a sales-led growth billing motion. They're fully integrated with the rest of Paddle, so they share a product catalog and customers.
You can create a draft invoice in Paddle, or build an integration to automatically create draft invoices when you create a quotation in your CRM or ERP system.
As you scope out requirements with your customer, you can make changes to your invoice and its items.
Issue an invoice when you're happy with it to mark it as finalized. At this point, it gets an invoice number and becomes a financial record. Paddle automatically creates a subscription, ready for you to provision.
When your customer pays your invoice, Paddle handles reconciliation and marks it as paid.
Sign up for Paddle

Create your Paddle sandbox and live accounts, then complete initial setup.

Handle provisioning and subscription lifecycle events

Paddle automatically creates a subscription when invoices are issued. Use webhooks or the event stream to provision access to your app, and handle other subscription lifecycle events like upgrades, downgrades, and cancellations.

Start selling!

You're ready to start creating and issuing invoices with Paddle.
With Paddle, you can conquer upmarket and downmarket — all from the same integrated platform.
Empower product-led growth

Offer entry-level plans and let customers signup for your app using Paddle Checkout.

Easy upsells

Present customers who pay by invoice with a checkout for smaller charges, like adding users or modules mid-cycle.

Scale with your customers

Meet the needs of growing customers by transitioning customers who pay using Paddle Checkout to billing by invoice.